WELCOME TO OUR NEW HYBRID SERVICES!
UUNB is pleased to offer you a choice in how you participate in our weekly Sunday services. Please join us for in-person worship or you may choose to attend virtually via Zoom. To attend services online, email UUNB135@gmail.com and request to be added to our email list. You can also watch previous services at the UUNB Youtube channel and connect with others in Small Group Ministry.
Welcome! Our Sunday Service is from 10:30 to 11:30 am and is followed by Coffee and Conversation, a time to mingle with members, friends, and visitors. Our services usually include music, readings, reflections, and a sermon. Our minister leads roughly one-quarter of our services and the rest are hosted by members of the congregation or an invited speaker. More details can be found below in our service descriptions. Our building is wheelchair-accessible. Please let our greeter know if you require a hearing device or a large-print hymnal.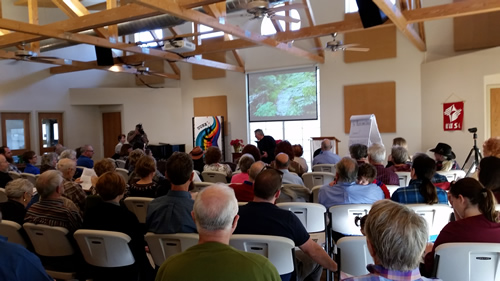 Our children's Religious Education program begins shortly after the Sunday Service begins, with kids starting in the Gathering Room with adults and exiting to their RE classes after a story for all ages. Class ends at 11:40am to give parents a few minutes to enjoy meeting others. Childcare is provided for infants through age four. School age RE is for ages 5 and up, wih youth more than welcome to join us.
Upcoming Sunday Services
"The Mythology of Aging" – Dennis Patrick Slattery, PhD
Jan 30th, 2022 10:30:am
Our culture currently treats aging as a time to retire, to enjoy leisure, to cultivate friendships and to look back at a life well-lived. I think all of this is way too literal. What if we began to think instead of aging as a form of Eldering, of continuing the journey into our interior life to explore unexamined layers of our complex and one-of-a-kind identity. I am finding, at age 77, wonderful time to reflect on my spiritual presence in life, a time to deepen my relation with the Ineffable Other that some may call God. Whatever our vocabulary, the felt experience is what matters; our spiritual deepening can continue up to and including the day we pass from one world to another. Let's explore these spiritual moments that age offers us as gifts for the soul to nourish itself by.
Past Sermon Videos