COVID-19 Update: Please join us for worship online via Zoom. The congregation meets on Sundays at 10:30 AM. To attend service online, email UUNB135@gmail.com and request to be added to our Sunday Service email list. You can also watch previous services at the UUNB Youtube channel and connect with others in Small Group Ministry.
Welcome! Our Sunday Service is from 10:30 to 11:30 am and is followed by Coffee and Conversation, a time to mingle with members, friends, and visitors. Our services usually include music, readings, reflections, and a sermon. Our minister leads roughly one-quarter of our services and the rest are hosted by members of the congregation or an invited speaker. More details can be found below in our service descriptions. Our building is wheelchair-accessible. Please let our greeter know if you require a hearing device or a large-print hymnal.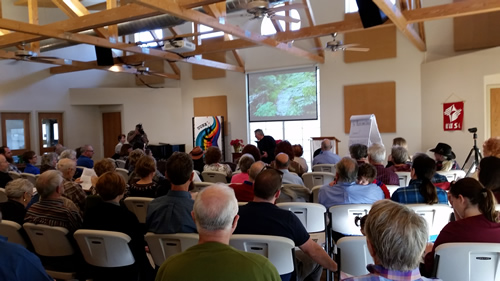 Our children's Religious Education program begins shortly after the Sunday Service begins, with kids starting in the Gathering Room with adults and exiting to their RE classes after a story for all ages. Class ends at 11:40am to give parents a few minutes to enjoy meeting others. Childcare is provided for infants through age four. School age RE is for ages 5 and up, wih youth more than welcome to join us.
Upcoming Sunday Services
"The Wisdom in Surrender" – Rev. Addae Kraba
Oct 17th, 2021 10:30:am
Surrendering brings to mind upturned palms and bowed heads and us on our knees. There's a vulnerability at its core, but is there any value? Lets explore why there can be wisdom in surrender.
"Reflecting on 26 Years Together" – Sarah Laird
Oct 24th, 2021 10:30:am
In this service we recall the spark that brought this congregation into being as well as our years of fellowship and activism since 1995. Members have contributed stories and photos for Sarah Laird to weave into a tapestry that illustrates who we are and what we value at UUNB.
"CUUPS" – Nichole "Chol" Romero-Dungan & Friends
Oct 31st, 2021 10:30:am
The Covenant of Unitarian Universalist Pagans (CUUPS) was chartered by the Unitarian Universalist Association for purposes of enabling networking among Pagan Identified UUs, promoting Pagan - Jewish & Christian dialogue; encouraging the development of theo/alogical and liturgical materials based on earth and nature centered religious and spiritual perspectives, encouraging greater use of music, dance, visual arts, poetry, story, and creative ritual in UU worship and celebration, and fostering healing relationships with our mother the Earth and all her children. UUNB's newly-birthed Sacred Earth Circle is the newest chapter to join the greater CUUPS constellation.
Past Sermon Videos