Welcome! Our Sunday Service is from 10:30 to 11:30 am and is followed by Coffee and Conversation, a time to mingle with members, friends, and visitors. Our services usually include music, readings, reflections, and a sermon. Our minister leads roughly one-quarter of our services and the rest are hosted by members of the congregation or an invited speaker. More details can be found below in our service descriptions. Our building is wheelchair-accessible. Please let our greeter know if you require a hearing device or a large-print hymnal.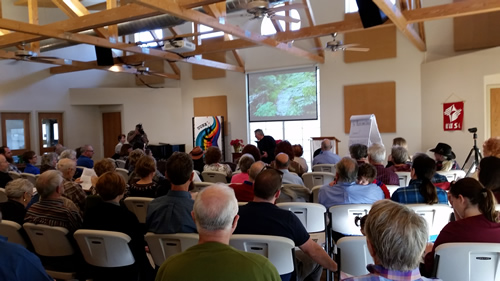 Our children's Religious Exploration program begins shortly after the Sunday Service begins, with kids starting in the Gathering Room with adults and exiting to their RE classes after a story for all ages.  Class ends at 11:40am to give parents a few minutes to enjoy meeting others.  Childcare is provided for infants through age four.  School age RE is for ages 5 and up, wih youth more than welcome to join us.  
Upcoming Sunday Services
"Yoga and Spirituality" – Kaye House-Agar
Jun 11th, 2023 10:30:am
Yoga is not about strenuous poses or looking "just fabulous" on Instagram, but about connecting breath and body and finding a path to a higher power. Yoga teacher Kaye House-Agar shares her experience.
"What Is a Father?" – Rob Acox
Jun 18th, 2023 10:30:am
Our own Rob Acox explains, "Today we are going to be doing a deep dive into Father's Day. We will talk about a little history, define masculinity and masculine archetypes, define sacred masculinity and tie it all into fatherhood."
"Why You Should Not Be a Unitarian Universalist" – Jose Antonio Contreras
Jun 25th, 2023 10:30:am
So, you've read all of the pamphlets on why you should be a Unitarian Universalist? Well, Jose Contreras stands that on its head to tell you all of the reasons that a person should NOT be a UU! Peppered with wit and understanding, this sermon by the Rev. Dr. Tony Larson tells it as it is.
Past Sermon Videos
Recorded sermons can be viewed on the
UUNB YouTube channel